Article: The 2023 Holiday Gift Guide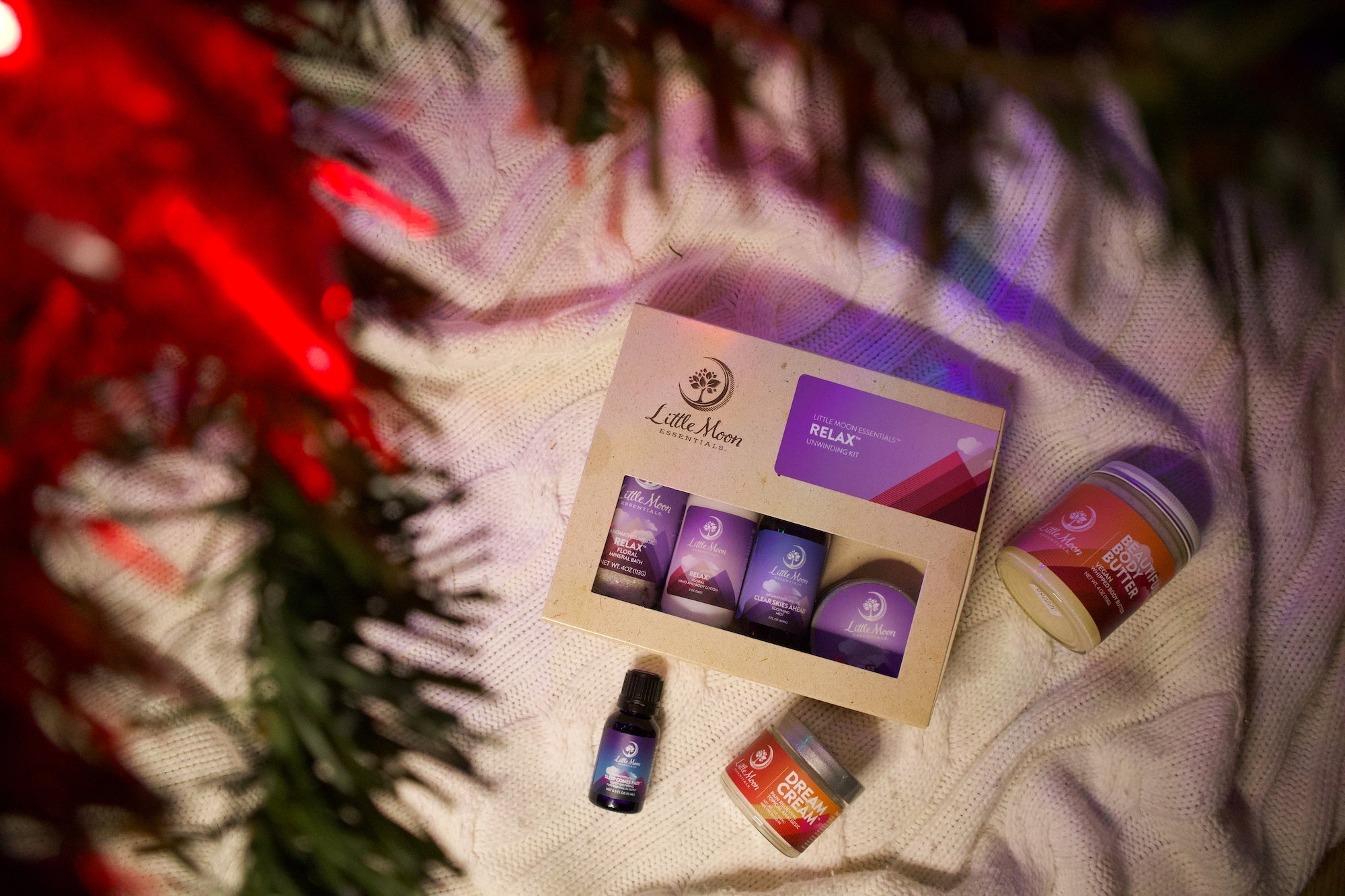 The 2023 Holiday Gift Guide
The holidays are here and nothing speaks to us more than self-care. After hosting parties, visiting friends and family, or even commuting as the nights come earlier and earlier, a warm bath sounds incredibly enticing. We know that you deserve a little TLC (and so do your loved ones), so we created a 2023 Holiday Gift Guide to help you navigate through all Little Moon Essentials has to offer. Grab a warm cup of your favorite brew and cozy up under the blankets while we take you through our holiday must-haves. Cheers! 
For the Athletes & Weekend Warriors
Whether you love getting up early to go on a morning run or find yourself running through all your weekend errands, you are sure to crave a little "me" time. Even though it may seem like an impossible task, taking 15 minutes out of your day to ground yourself may be just what you need. Fill those 15 minutes with soothing and refreshing essential oils like the ones used in our Tired Old Ass™ collection. This collection features lemon, eucalyptus, and vetiver for a revitalizing blend. 
Did you have a rough day training, or are getting back to the gym? Our Iron Man™ mineral bath features beet, camphor, and ginger to help nourish and renew your muscles. Of course, it wouldn't be a holiday gift guide if we didn't include one of our favorites, Dream Cream™! This topical analgesic contains herbs like ginger and cayenne, and pairs them with analgesic essential oils, menthol and camphor, to deliver a cooling-warming experience perfect for fatigued bodies.
For the Nature Lovers
If you live in a colder area, getting out in nature may be a little hard to do right now, but when Spring arrives and you are ready to take in a much-needed breath of fresh air, try bringing our natural bug spray with you! Not Buggin' Me™ is a powerful blend of essential oils that relieves irritation from bug bites and speeds up the healing process. While you sit inside your winter wonderland, allow yourself to be transported to the pine-filled forest of your dreams with our Peaceful Forest™ collection. This collection features essential oils like spruce, spearmint, and rosemary, that create a balancing and restoring aroma.
For the Hard Workers & Caretakers
Show the hard worker in your life how much they mean to you by gifting them products made with 100% natural ingredients designed to help them feel better, inside and out! For parents, we suggest two of our curated gift sets. These gift sets have done the gifting for you, all you need to do is wrap them up! Our Mom's Essentials Survival Kit contains:
(1) 4oz Relax™ Mineral Bath Salt Jar
(1) 2oz Clear Skies Ahead™ Mist
(1) 2oz Relax™ Bath and Shower Sugar Exfoliant
(1) 0.5oz Beautiful Belly Butter™ Skin Conditioning Salve
(1) 0.5oz Sleep Comes Easy™ Sleep Inspiring Salve
(1) Beach All You Want™ Lip Balm
For the Super-Dad, we recommend our Dad's Essentials Survival Kit which contains:
(1) 4oz Gimme a Break™ Mineral Bath Salt Jar
(1) 2oz Tea Tree Foot Lotion
(1) 2oz Magical Muscle Oil™
(1) 0.5oz Sleep Comes Easy™ Salve
Any of our mineral baths would be perfect after a long day, but we think the Gimme A Break™ mineral bath featuring ho wood, lemon, and vanilla would be the perfect fit.
For the Bookworms
Sitting down at the end of the day with a good book is like a reward. What makes that book even better is the cozy atmosphere you can create for that time. If you love reading in cozy spaces or simply enjoy creating the perfect environment, try our essential oil blends! Each blend was inspired by our signature scents and contains 100% pure essential oils. Just a few drops into your favorite diffuser creates a whole new aromatherapeutic world.
If you don't have a diffuser, try our mists! These can be used as a room or body spray to freshen up any space or to transport you to a relaxing oasis. If you find yourself needing an afternoon pick-me-up, Lift Off™ may be just the blend for you to try. On the other hand, our Sleep Comes Easy™ mist could be just what you're looking for if you have trouble calming the mind before bed.
For the Yoga Enthusiast
If you love practicing a morning asana or easing into your evening with a gentle flow, we've got the perfect body rub for you! Asana Kisser™ is our signature pain relief body rub for yoga enthusiasts dedicated to the flow and honoring their bodies. The pleasant and invigorating scent will encourage you to breathe deeply, focus, and help guide you through lengthy meditation sessions. Any of our mists would also make great mat or room sprays to refresh your space before and after you practice. 
For the Hopeless Romantic
For the hopeless romantic, we see you! Our Passion™ collection is the perfect choice for anyone looking to awaken confidence and sensuality. Whether you adorn your body in our shimmering Passion™ whipped body butter or soak up the romance with our Passion™ mineral bath, this collection will leave you feeling the love.
Our body oils are also a great way to create a romantic evening with a partner or to give back to your body. A self-massage not only helps to connect you with your body, but it helps to loosen up your muscles and allow you to relax...being a hopeless romantic definitely calls for a little self-love, too!
Give the Gift of Little Moon Essentials
Whether you are an early morning runner or a cozy evening reader, we like to think that we have the perfect bath and body care for anyone. At Little Moon Essentials, we prioritize creating products that make you feel good all around. Our team works hard to continue to create magic in a bottle, using 100% natural ingredients that are always cruelty-free and vegan-friendly. We also partner with rePurpose Global to help mitigate plastic from our oceans and coastlines and use biodegradable packing peanuts in all our packages.

We hope you found exactly what you were looking for and were able to check a few things off your to-do list. We wish you an amazing holiday season, no matter what or how you choose to celebrate, and a harmonious year ahead!